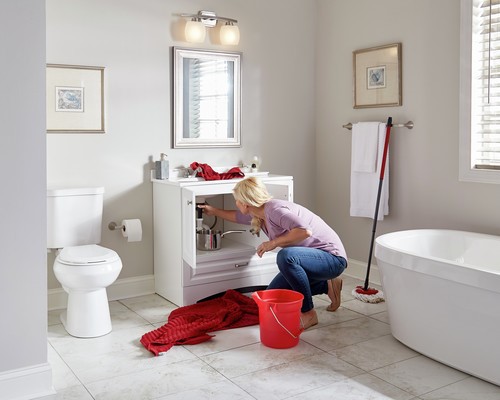 Cleaning Your Bathroom Efficiently
If you ask everyone their least favorite room to clean in their house, chances are they will say the bathroom. While on one actually enjoys cleaning toilets, showers, tubs, sinks, and bathroom floors, keeping your bathroom clean and sanitary is important. Many germs and bacteria can be found in the bathroom, but with these simple cleaning tips, you can ensure your bathroom is in tip top, sanitary shape!
Tip #1
Remove all items from the bathroom for easier access. This includes shampoos, soaps, towels, mini trash can, and other objects that may be blocking an area from getting thoroughly cleaned. We recommend doing this all at once instead of as you go- this way, your momentum is never broken!
Tip #2
Dust to remove cobwebs in corners, on vents, and corners. Use a broom or vacuum cleaner to get the rest of debris hair, or other particles on the floor.
Tip #3
Fill a bucket with warm water and all-purpose cleaner and wash the floors.
Tip #4
Apply an all purpose cleaner to the shower and bathtub. Before washing it down, let it sit and soak in. Once you have let it sit for a while, you should be able to lightly scrub away loose dirt and buildup. Get all walls and floors clean before thoroughly rinsing.
Tip #5
Cleaning the toilet regularly makes it easier for cleaning with the all-purpose cleaner. Spray a small amount of toilet-bowl cleaner if buildup exists, then scrub with a toilet brush before flushing. Don't forget to clean the outside of the toilet as well.
While cleaning a bathroom is no one's favorite thing to do, it's definitely a necessary task to keeping your family safe from germs, and will set a good impression for any guests who are visiting.
If you're looking for a professional quality clean for your home or office, MD Cleaning Service is right for you! Being a great service provider means having confidence in the people providing those services, and we're proud to have professional and upstanding individuals working with us. Our focus is on personalized service, customer satisfaction, and competitive rates. Our goal is go beyond your expectations. We offer Weekly, Bi-weekly, Monthly or one time cleanings. Your home will receive a consistent quality clean, tailored specifically to you, with our personalized treatments.
Please give us a call today at 410.444.8880
TESTIMONIAL
"I am writing to express my satisfaction with your crew's work at my house. They did a very thorough job and the house looks better than I anticipated. It was a pleasure to work with you and employees and I will contact your company whenever I need a cleaning service in the future."
" MD Cleaning Services has been a life saver. It feels great to know that we will walk into a clean house after they are done. Excellent service, I would highly recommend."
OPENING HOURS
| | |
| --- | --- |
| Week Days | 7am-3pm |
| Saturday | By Appt. Only |
| Sunday | CLOSED |
  410.444.8880
Request a Free In-House Consultation Today!
Contact us to schedule a free in house consultation to discuss your home's needs! We look forward to helping you achieve your house cleaning goals.