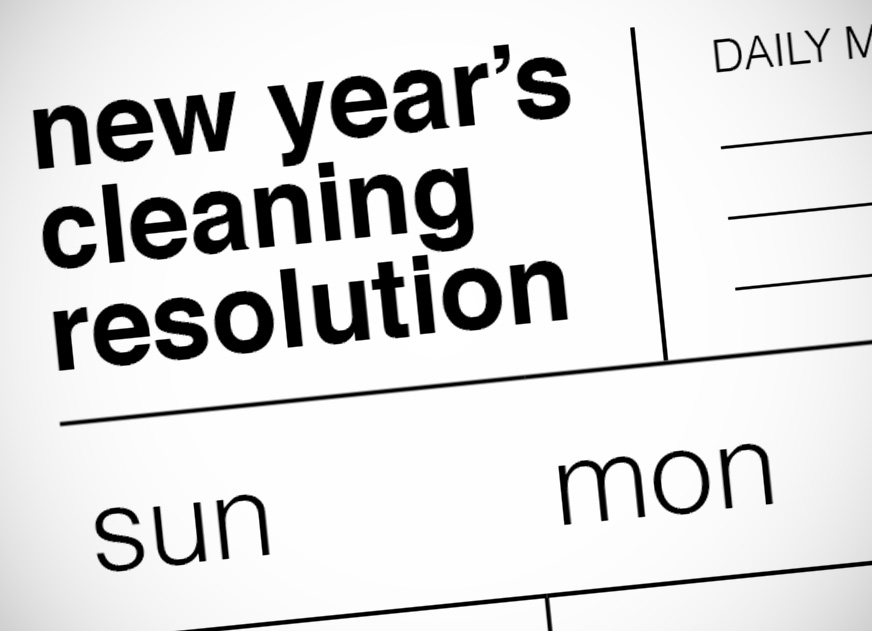 Cleaning Resolutions to make Your 2021 More Clean and Efficient
Did you find yourself making promises all year to get into a better cleaning routine, but kept falling short? There's no better time to try to start with a clean slate (no pun intended!) for the New Year. There are many small cleaning habits you can yourself into now and by the middle of the year, they will feel like second nature. We have outlined some of our favorite cleaning resolutions below. 
Make Your Bed Daily
Making your bed is one of the easiest, quickest, and most efficient ways to make a messy bedroom look cleaner. Before you leave your bedroom in the morning, take the time to make your bed. When you get home in the evening, you'll appreciate coming home to a clean bedroom and it's one less thing you have to do before bed!
Fold Your Laundry as Soon as it Comes Out of the Dryer
We're all guilty of procrastinating doing laundry, especially when it comes to folding and putting away our clothes! By folding and putting away laundry right after it's done, your mornings will be much more productive as you won't have to look through your laundry bins for socks or other articles of clothing. 
Don't Let Dishes Pile Up
A full sink can be an eye sore, and it can also lead to more eating out and less cooking at home. There are two ways to go about keeping your sink clean- wash dishes as soon as you dirty them, or run your dishwasher nightly. Both of these will guarantee a cleaner sink and a cleaner looking kitchen! You will also spend less time doing bulk amounts of dishes. It's a win win!
Dust One Room a Day
Dust one room a day in your home, and by the end of each week, your house will be dust free! Not only does this split up the dust work, it keeps your home cleaner and the air better. 
Eliminate a Junk Drawer
Have a drawer in your home that collects junk? This year, decide if the item really needs to kept. If the answer is yes, find a place for it, before just throwing into a drawer. This mentality will help you eliminate clutter in all areas of your home, but the drawer is a great start! 
While New Years Resolutions are typically filled with career, monetary, and family goals, there's no harm in adding in some cleaning ones to make your home a little more organized and clean. We wish all of our followers a safe, wonderful, and "clean" New Years!
If you're looking for a professional quality clean for your home or office, MD Cleaning Service is right for you! Being a great service provider means having confidence in the people providing those services, and we're proud to have professional and upstanding individuals working with us. Our focus is on personalized service, customer satisfaction, and competitive rates. Our goal is go beyond your expectations. We offer Weekly, Bi-weekly, Monthly or one time cleanings. Your home will receive a consistent quality clean, tailored specifically to you, with our personalized treatments.
Please give us a call today at 410.444.8880
TESTIMONIAL
"I am writing to express my satisfaction with your crew's work at my house. They did a very thorough job and the house looks better than I anticipated. It was a pleasure to work with you and employees and I will contact your company whenever I need a cleaning service in the future."
" MD Cleaning Services has been a life saver. It feels great to know that we will walk into a clean house after they are done. Excellent service, I would highly recommend."
OPENING HOURS
| | |
| --- | --- |
| Week Days | 7am-3pm |
| Saturday | By Appt. Only |
| Sunday | CLOSED |
  410.444.8880
Request a Free In-House Consultation Today!
Contact us to schedule a free in house consultation to discuss your home's needs! We look forward to helping you achieve your house cleaning goals.