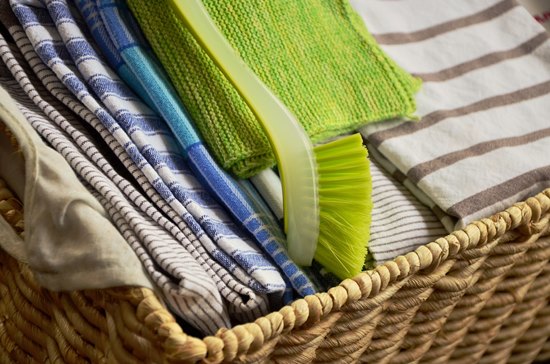 An Alternative to Paper Towels- Saving Your Wallet and the Environment
Paper towels are very convenient when cleaning up messes around the house- just rip off the amount you need and toss it in the trash when you're done. Throughout the day, you can go through a roll or more. A roll or more a day can have you flying through packs and spending more at the store than you'd like. By using different types of cloths in place of paper towels, you can achieve a money saving and environmentally friendly clean.
Our personal favorite for all purpose cleaning is a bar mop towel. Bar mop towels are absorbent, and have some abrasion in order to help you clean messes big or small. These versatile cloths come in two sizes: standard (16in x 19in) and petite (12in x 12in). They are helpful to keep around the sink to help dry dishes and absorb water. The minor abrasion and durability make them great for many non-kitchen surfaces as well as window sills and wood furniture.
Reversible terry towels come in a close second here. They have an abrasive side and a cloth side making them very similar to the bar mop. They can help decorate your kitchen or bathroom with their designs while offering great flexibility while cleaning. Because of the two different textures, they are a little thicker and can be a bit more absorbent than the bar mops.
Microfiber cloths are great for dusting and polishing around your house. They are able to be rinsed out while using, but aren't as absorbent as our first two entries. Microfiber cloths don't have much abrasion, so it may be difficult to get tough stains up off countertops, but they do trap dirt very well. These towels make cleaning windows and stainless steel a breeze.
All of these towels may be reused and machine washed as directed on the tags, making it easier on your wallet and the environment. While the convenience of paper towels cannot fully be replaced, these alternatives can help reduce their use within your home.
If you're looking for a professional quality clean for your home or office, MD Cleaning Service is right for you! Being a great service provider means having confidence in the people providing those services, and we're proud to have professional and upstanding individuals working with us. Our focus is on personalized service, customer satisfaction, and competitive rates. Our goal is go beyond your expectations. We offer Weekly, Bi-weekly, Monthly or one time cleanings. Your home will receive a consistent quality clean, tailored specifically to you, with our personalized treatments.
Please give us a call today at 410.444.8880
TESTIMONIAL
"I am writing to express my satisfaction with your crew's work at my house. They did a very thorough job and the house looks better than I anticipated. It was a pleasure to work with you and employees and I will contact your company whenever I need a cleaning service in the future."
" MD Cleaning Services has been a life saver. It feels great to know that we will walk into a clean house after they are done. Excellent service, I would highly recommend."
OPENING HOURS
| | |
| --- | --- |
| Week Days | 7am-3pm |
| Saturday | By Appt. Only |
| Sunday | CLOSED |
  410.444.8880
Request a Free In-House Consultation Today!
Contact us to schedule a free in house consultation to discuss your home's needs! We look forward to helping you achieve your house cleaning goals.