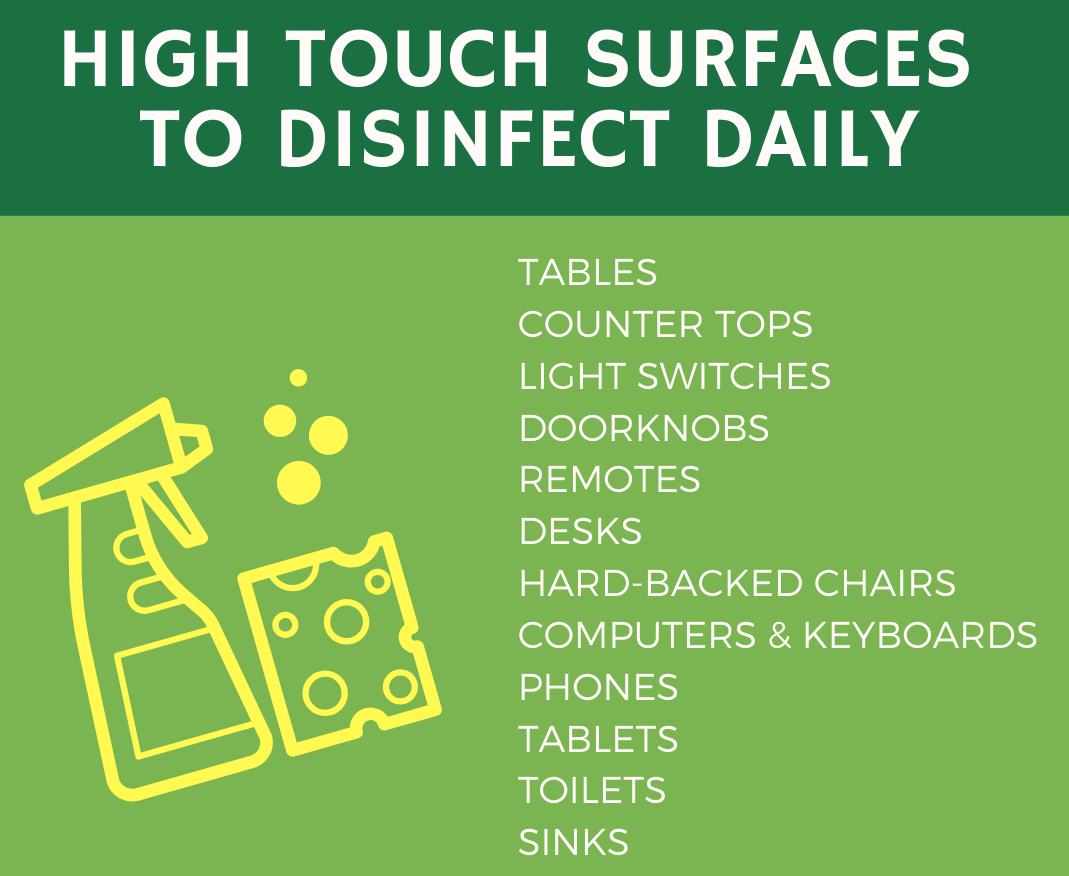 Preparing Your Office For Opening During COVID-19
With more and more states lifting Covid-19 restrictions, employees will be returning to their offices and other places of work. The number of new cases is slowing down, but the virus can still be spread if we do not follow CDC social distancing guidelines and take necessary cleaning and sanitary measures.  Hiring a professional cleaning company to come in and do routine, thorough cleanings for your business is the safest and most efficient option to keep your workspace safe and sanitized. However, if you are planning to reopen before you can bring in the professionals or want to take proactive measures daily, these do-it-yourself tips can help keep your workplace, employees, and customers safe during your re-open.
First, let's start with the basics. Get an EPA approved disinfectant in order to kill the virus on surfaces. It is best to wash the surface with soap and water before doing so. The disinfectant label will have instructions on the best way to disinfect. Disinfectant is difficult to come by during this time, so if you have trouble, locate some bleach with a 5% to 6% sodium hypochlorite concentration. Bleach will kill the coronavirus and can be used on most hard surfaces when diluted with ⅔ water to ⅓ bleach ratio. Always use bleach in a well ventilated area and never mix bleach with other chemicals.  Make sure to get in the habit of wiping and disinfecting hot spot areas, such as door handles, phones, computer equipment, and credit card machines.
Next, it is still important to practice social distancing as much as possible. Employees should be taught the symptoms of Covid-19 and be encouraged to go home if not feeling well. Proper amounts of PPE and cleaning supplies should be made available to employees at all times, as well as hand sanitizer and disinfectant soap for employee and customer use. Each workplace is different and proper custom procedures are encouraged to to be made for additional employee safety. Replace hand shakes with elbow bumps and allow extra distancing and masks while at meetings.
Don't forget to dust! It's tempting to focus solely on areas where hands or respiratory droplets may travel, but dust can be a vector for illnesses like COVID-19, cold, and flu. An "airborne" disease achieves its fast spread by hitching a ride on dust particles and aerosolized moisture. Besides reducing the spread of illness, improving your indoor air quality can make breathing easier for those with dust allergies and respiratory sensitivities.
Keeping employees safe and taking precautions are the best ways to keep cases on the decline. With these tips, the office can be one less hot spot and safe haven for employees.
If you're looking for a professional quality clean for your home or office, MD Cleaning Service is right for you! Being a great service provider means having confidence in the people providing those services, and we're proud to have professional and upstanding individuals working with us. Our focus is on personalized service, customer satisfaction, and competitive rates. Our goal is go beyond your expectations. We offer Weekly, Bi-weekly, Monthly or one time cleanings. Your home will receive a consistent quality clean, tailored specifically to you, with our personalized treatments.
Please give us a call today at 410.444.8880
TESTIMONIAL
"I am writing to express my satisfaction with your crew's work at my house. They did a very thorough job and the house looks better than I anticipated. It was a pleasure to work with you and employees and I will contact your company whenever I need a cleaning service in the future."
" MD Cleaning Services has been a life saver. It feels great to know that we will walk into a clean house after they are done. Excellent service, I would highly recommend."
OPENING HOURS
| | |
| --- | --- |
| Week Days | 7am-3pm |
| Saturday | By Appt. Only |
| Sunday | CLOSED |
  410.444.8880
Request a Free In-House Consultation Today!
Contact us to schedule a free in house consultation to discuss your home's needs! We look forward to helping you achieve your house cleaning goals.