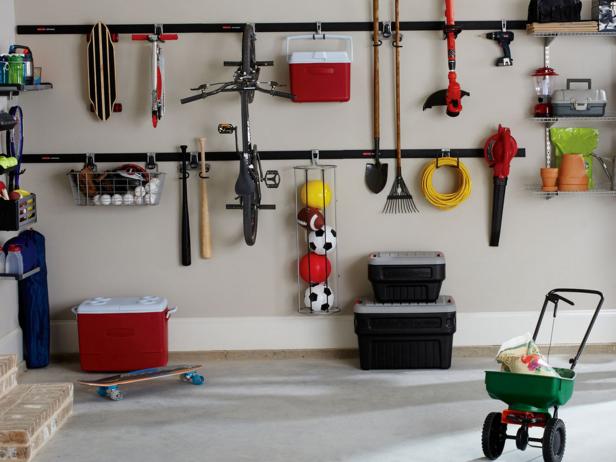 Tips for Organizing Your Garage
Sometimes it's easier just to put things that are in your way out of sight out and out of mind until you need them. Most of the time,  the garage or basement is always the first choice for these objects. When spring rolls around we open our garages to a winter's worth of clutter. Here are some simple tips to get your garage in top shape.
Make Time
Like all other big projects, make sure you allow yourself enough time to see your garage organization through to completion. Whether it takes you an entire day or only a few hours, budgeting out time allows you to get on a roll and not waste time backtracking.
Make a Plan of Action
Make a list of what you need for the project. Items such as storage totes, trash bags, boxes for donation, and cleaning supplies are a few we recommend having handy. Having all of these items on hand before starting saves you from breaking your momentum mid-clean.
Clean in Sections
We recommend splitting the garage into imaginary boxes of 4. When cleaning one part, make sure it's completely clean, wiped down, and swept before moving onto the next section. This ensures no section of your garage gets overlooked or missed!
Organize Tools
Once you have all of your tools in one place, analyze how much there is of each item. Many tools can be hung up, which will give your garage more floor space for other items. Not only does hanging up tools clear some space, it also allows you to put dangerous tools out of reach of small children. Tools should never be hung too high that they could fall onto someone's head. Cabinets, overhead storage, and pegboards are great options for getting important tools off the ground.
We are all guilty of having a designated "save for later" space in our home, but with these few tips, you can have your garage ready for your family's spring needs. 
If you're looking for a professional quality clean for your home or office, MD Cleaning Service is right for you! Being a great service provider means having confidence in the people providing those services, and we're proud to have professional and upstanding individuals working with us. Our focus is on personalized service, customer satisfaction, and competitive rates. Our goal is go beyond your expectations. We offer Weekly, Bi-weekly, Monthly or one time cleanings. Your home will receive a consistent quality clean, tailored specifically to you, with our personalized treatments.
Please give us a call today at 410.444.8880
TESTIMONIAL
"I am writing to express my satisfaction with your crew's work at my house. They did a very thorough job and the house looks better than I anticipated. It was a pleasure to work with you and employees and I will contact your company whenever I need a cleaning service in the future."
" MD Cleaning Services has been a life saver. It feels great to know that we will walk into a clean house after they are done. Excellent service, I would highly recommend."
OPENING HOURS
| | |
| --- | --- |
| Week Days | 7am-3pm |
| Saturday | By Appt. Only |
| Sunday | CLOSED |
  410.444.8880
Request a Free In-House Consultation Today!
Contact us to schedule a free in house consultation to discuss your home's needs! We look forward to helping you achieve your house cleaning goals.