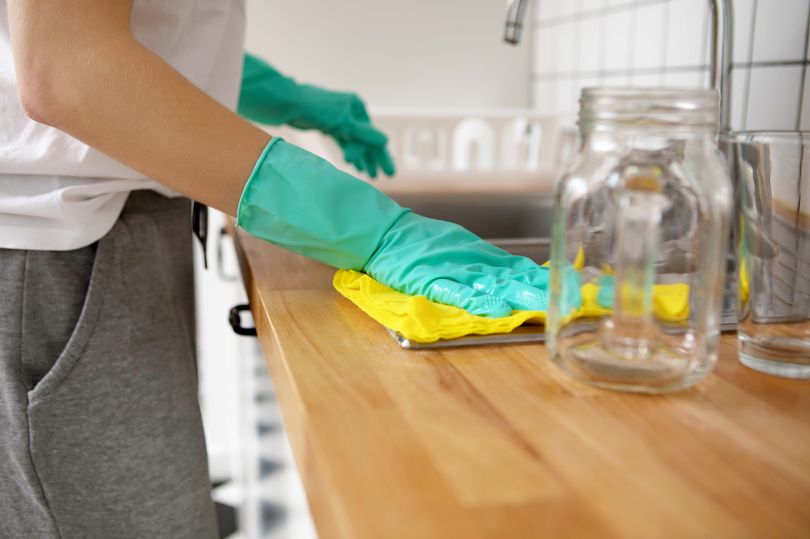 Tips for Disinfecting Your Kitchen and Food For Coronavirus
While we are all doing our part to practice social distancing, trips to the grocery store are still an essential part of everyday life. After a grocery store visit, it is crucial that you wash up at home and take necessary actions to sanitize your space against COVID-19. Even when you're not gathered around the table for a family meal, you and your family will be in and out of the kitchen all day to get snacks and drinks. We have compiled some experts' tips on keeping your kitchen clean.
Basic Surface Cleaning
Clean commonly used surfaces, such as your kitchen counter, tables, refrigerator and microwave handles, cutting boards, and cabinet and stove knobs.  We recommend keeping a checklist handy, such as on your refrigerator door with a magnet, so that you can create a daily cleaning routine! 
Consider disinfecting containers
According to research that has been conducted regarding the virus, there's always the chance a glass or metal container could have been handled by someone with the virus — including employees at the store it originated from. You can use disinfectant wipes or solutions to clean cans, bottles and jars.
Transfer some food to containers
For foods like dried beans, whole grains, pasta, cereals and other similar items, you may want to transfer them to clean containers. That way you don't have to worry about the small chance of a virus lurking on the container the food came in.
Run your dishwasher on the sanitizer setting (If Applicable)
If you have a dishwasher, some machines have a sanitizer setting. The internal temperature on this setting reaches 155 degrees Fahrenheit, which is tough for a virus to survive in.
Rince produce as usual
Your produce does not need to soak in a sanitizing solution. There are currently no known instances of the virus transferring from produce.
Wash your hands
After shopping and after cleaning, it is very important to thoroughly wash your hands with antibacterial soap and water.
By following these basic tips and guidelines, your trip to the grocery store is a little less stressful. Keeping the kitchen stocked with food and water is essential, but knowing there are preventative measures that can be taken to ensure the virus does not survive in our homes gives us all a bit of peace.
If you're looking for a professional quality clean for your home or office, MD Cleaning Service is right for you! Being a great service provider means having confidence in the people providing those services, and we're proud to have professional and upstanding individuals working with us. Our focus is on personalized service, customer satisfaction, and competitive rates. Our goal is go beyond your expectations. We offer Weekly, Bi-weekly, Monthly or one time cleanings. Your home will receive a consistent quality clean, tailored specifically to you, with our personalized treatments.
Please give us a call today at 410.444.8880
TESTIMONIAL
"I am writing to express my satisfaction with your crew's work at my house. They did a very thorough job and the house looks better than I anticipated. It was a pleasure to work with you and employees and I will contact your company whenever I need a cleaning service in the future."
" MD Cleaning Services has been a life saver. It feels great to know that we will walk into a clean house after they are done. Excellent service, I would highly recommend."
OPENING HOURS
| | |
| --- | --- |
| Week Days | 7am-3pm |
| Saturday | By Appt. Only |
| Sunday | CLOSED |
  410.444.8880
Request a Free In-House Consultation Today!
Contact us to schedule a free in house consultation to discuss your home's needs! We look forward to helping you achieve your house cleaning goals.