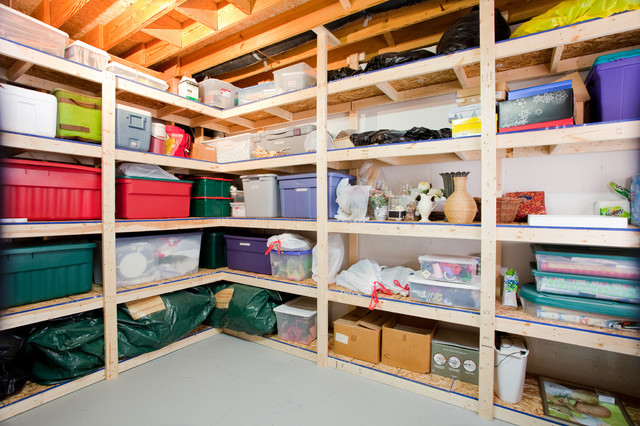 Tips for Organizing and Cleaning Your Basement
We are all guilty of using our basement as the go to place for items that might necessarily not have a place. Here is a checklist to help turn your cluttered basement into an organized, clean space for more storage or additional living space!
Access the Clutter
The best place to start decluttering is by assessing the clutter. Let's create three categories- donate, toss, and keep. Assign each item in your basement to a category. If it's an item you rarely ever use, it's probably a good candidate for the toss or donate category. Old furniture is another good candidate for the tossed category.
Sort and Label Items
Plastic storage bins and zippered bags are your friend! These are both great tools to sort items in the basement. For example, create a bin called "holiday decorations," and put all of your holiday decor in there. This way, it's all together and out of the way until you are ready to pull it out again during the holiday season! Bins are also easy to stack and store out of the way.
Now, It's Cleaning Time!
Now that all your items are in order, you can get to cleaning the basement! First, vacuum up any loose debris from the floors. Dust for cobwebs in the corners of the room as well as along the ceiling. If you don't have carpeting, after you're done vacuuming you can mop the floors with soap and water. We recommend running a dehumidifier right after to help with drying. Dust off any shelves or tables and wipe them down with a disinfectant cleaning product.
Basement  cleaning also gives you a chance to get familiar with your basement and determine if it has any problems, such as mold or water issues. While moving the boxes around, look in every crevice and note any wet spots or water damage on your items. Contact your local contractor if you have any interior damage.
If you're looking for a professional quality clean for your home or office, MD Cleaning Service is right for you! Being a great service provider means having confidence in the people providing those services, and we're proud to have professional and upstanding individuals working with us. Our focus is on personalized service, customer satisfaction, and competitive rates. Our goal is go beyond your expectations. We offer Weekly, Bi-weekly, Monthly or one time cleanings. Your home will receive a consistent quality clean, tailored specifically to you, with our personalized treatments.
Please give us a call today at 410.444.8880
TESTIMONIAL
"I am writing to express my satisfaction with your crew's work at my house. They did a very thorough job and the house looks better than I anticipated. It was a pleasure to work with you and employees and I will contact your company whenever I need a cleaning service in the future."
" MD Cleaning Services has been a life saver. It feels great to know that we will walk into a clean house after they are done. Excellent service, I would highly recommend."
OPENING HOURS
| | |
| --- | --- |
| Week Days | 7am-3pm |
| Saturday | By Appt. Only |
| Sunday | CLOSED |
  410.444.8880
Request a Free In-House Consultation Today!
Contact us to schedule a free in house consultation to discuss your home's needs! We look forward to helping you achieve your house cleaning goals.