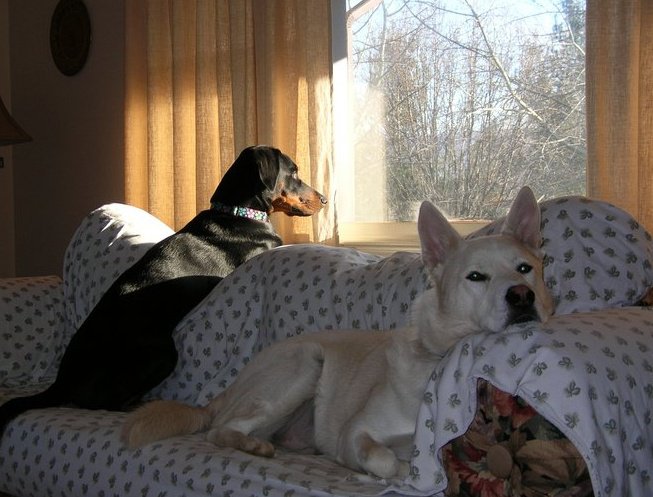 Cleaning Up Pet Hair From Your Home
Studies have shown that more than 65% of households in the US have a pet. Of those households, 63.4 million of them own at least one dog. They're cute, cuddly, and add a lot of character to our family, but they also add a lot of dog hair to our house, belongings, and clothing! Even if your dog is a light shedding breed rather than a heavy shedding breed, you are still likely to sometimes struggle with unwanted dog hair. Here are a few tips on how to manage the overall shedding and remove the aftermath from your home.
1. Bathe Your Dog Regularly
Bathing your dog regularly will not only control their odor, but it will also remove the excess hairs that have built up in their coat. If your dog is a light shedder, once a month should do the trick! If they are a heavy shedder, twice a month may be a better course of action.
2. Cleaning Dog Hair Off of Your Clothing
Lint rollers are a great tool to have around when you need to remove hair off of your clothing. Try keeping one right by your front door for convenient access before leaving the house! If you don't have a lint roller, wrapping some tape around your fingers with the sticky side up can serve the same purpose.
3. Cleaning Dog Hair Off of Your Floors
Regularly sweeping hardwood floors and routine vacuuming can help with pet hair around the house. A microfiber dry mop or a rubber broom used on a hardwood floor can help gather up loose hairs. Not only does routine vacuuming keep your rugs clean of pet hair, it also can pick up any fleas, flea eggs, or other dirt/debris your pets may bring into the house. Moving furniture such as sofas, tables, and beds is a good idea to ensure any hairs that blew underneath get cleaned up.
4. Cleaning it Off of The Furniture
A life hack for getting hair off of your furniture? Use rubber gloves! Just lightly run the rubber gloved hand over the furniture and the hairs will naturally cling to it. For wooden furniture, such as a table or desk, using a lightly dampened cloth will do the trick.
Follow these tips to keep dog hair under control so you can focus on the parts of dog ownership that bring you and your dog more joy. Hiring a professional cleaner to routinely deep clean your home from the mess our pets leave behind can take a lot of the work off of you, so you can enjoy the little moments with your special friend!
If you're looking for a professional quality clean for your home or office, MD Cleaning Service is right for you! Being a great service provider means having confidence in the people providing those services, and we're proud to have professional and upstanding individuals working with us. Our focus is on personalized service, customer satisfaction, and competitive rates. Our goal is go beyond your expectations. We offer Weekly, Bi-weekly, Monthly or one time cleanings. Your home will receive a consistent quality clean, tailored specifically to you, with our personalized treatments.
Please give us a call today at 410.444.8880
TESTIMONIAL
"I am writing to express my satisfaction with your crew's work at my house. They did a very thorough job and the house looks better than I anticipated. It was a pleasure to work with you and employees and I will contact your company whenever I need a cleaning service in the future."
" MD Cleaning Services has been a life saver. It feels great to know that we will walk into a clean house after they are done. Excellent service, I would highly recommend."
OPENING HOURS
| | |
| --- | --- |
| Week Days | 7am-3pm |
| Saturday | By Appt. Only |
| Sunday | CLOSED |
  410.444.8880
Request a Free In-House Consultation Today!
Contact us to schedule a free in house consultation to discuss your home's needs! We look forward to helping you achieve your house cleaning goals.