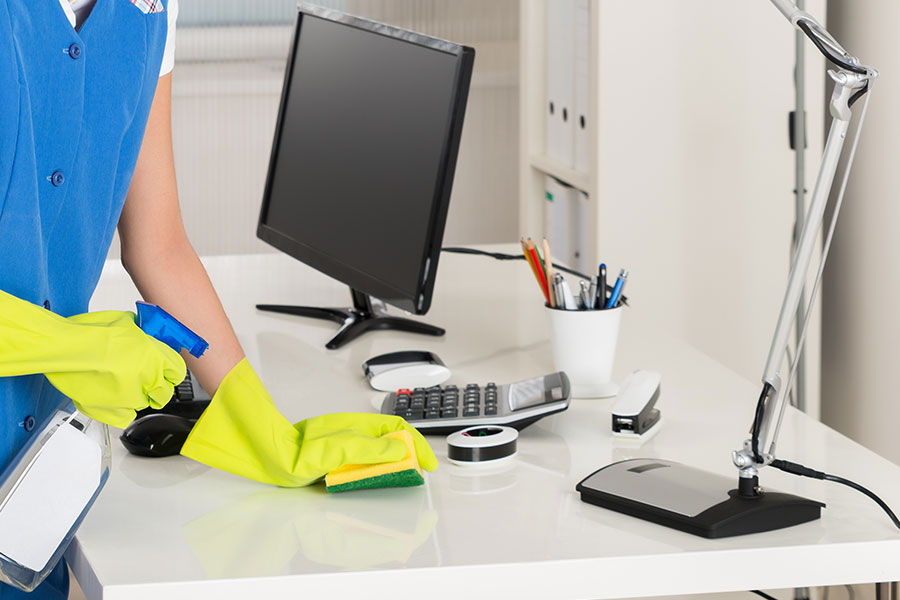 Does a Clean Office Really Matter?
Should you be concerned with your office cleanliness? Of course! Your office not only serves as the daily work hub for your employees, but often times it is the first interaction customers have with your company. By keeping your office clean and as sanitary as possible, you're helping to ensure their first impression is a good one. Overall productivity for your employees can be impacted by the environment that they currently work in. If you are in charge of your office and its cleaning program, consider the following factors.
Offices Have Germs
No matter what public setting you are in, you are bound to come into contact with germs from other people, animals, and germs lingering on objects you may touch. In an office, multiple people cohabitate in a small space daily, and germs are everywhere. Remember how your favorite secretary was out for a whole week with the flu? Those germs are now everywhere!
Here are a few facts to back this thought up:
The average

desk

harbors about

400 times more bacteria

than the average

toilet seat

, with some of these bacteria types being incredibly harmful and contributing to the spread of disease.

Office phones

have been found to harbor

25,127 germs per square inch.

  And, these germs can be different types of bacteria – everything from Helicobacter pylori, to E- Coli.

Office kitchen appliances

can be heavy 'sickness-inducing' germ offenders.  For example, refrigerator handles, cabinet tops, water coolers and the like can host a heavy concentration of germs.  Research showed one office water cooler to house

2.7 million germs per square inch!  
A survey of 1,000 office workers found that over two-thirds of workers put themselves at risk by not following recommended guidelines for how often to clean your workspace.
People Talk
If your office isn't up to par for a customer who is there to do business, they may complain on a public review or speak poorly about their experience to other potential customers. Things that a customer might notice right away is a messy, unvacuumed floor, dirty glass windows or doors, dirty and cluttered desks, and an unclean customer restroom.
Ensuring that you or a professional cleaning service routinely clean your office space not only contributes to the overall health and energy of your employees, it also ensures your customers don't think your business is a mess!
If you're looking for a professional quality clean for your home or office, MD Cleaning Service is right for you! Being a great service provider means having confidence in the people providing those services, and we're proud to have professional and upstanding individuals working with us. Our focus is on personalized service, customer satisfaction, and competitive rates. Our goal is go beyond your expectations. We offer Weekly, Bi-weekly, Monthly or one time cleanings. Your home will receive a consistent quality clean, tailored specifically to you, with our personalized treatments.
Please give us a call today at 410.444.8880
TESTIMONIAL
"I am writing to express my satisfaction with your crew's work at my house. They did a very thorough job and the house looks better than I anticipated. It was a pleasure to work with you and employees and I will contact your company whenever I need a cleaning service in the future."
" MD Cleaning Services has been a life saver. It feels great to know that we will walk into a clean house after they are done. Excellent service, I would highly recommend."
OPENING HOURS
| | |
| --- | --- |
| Week Days | 7am-3pm |
| Saturday | By Appt. Only |
| Sunday | CLOSED |
  410.444.8880
Request a Free In-House Consultation Today!
Contact us to schedule a free in house consultation to discuss your home's needs! We look forward to helping you achieve your house cleaning goals.